I have been waiting on this all week! If you didn't watch the Dead by Daylight Year Three Anniversary Live Stream, you missed out. It is on the DeadByDaylight Twitch page if you get a few hours, though. Better late than never! I have compiled some of the most important information for you here.
Panel 1: Year 4 Roadmap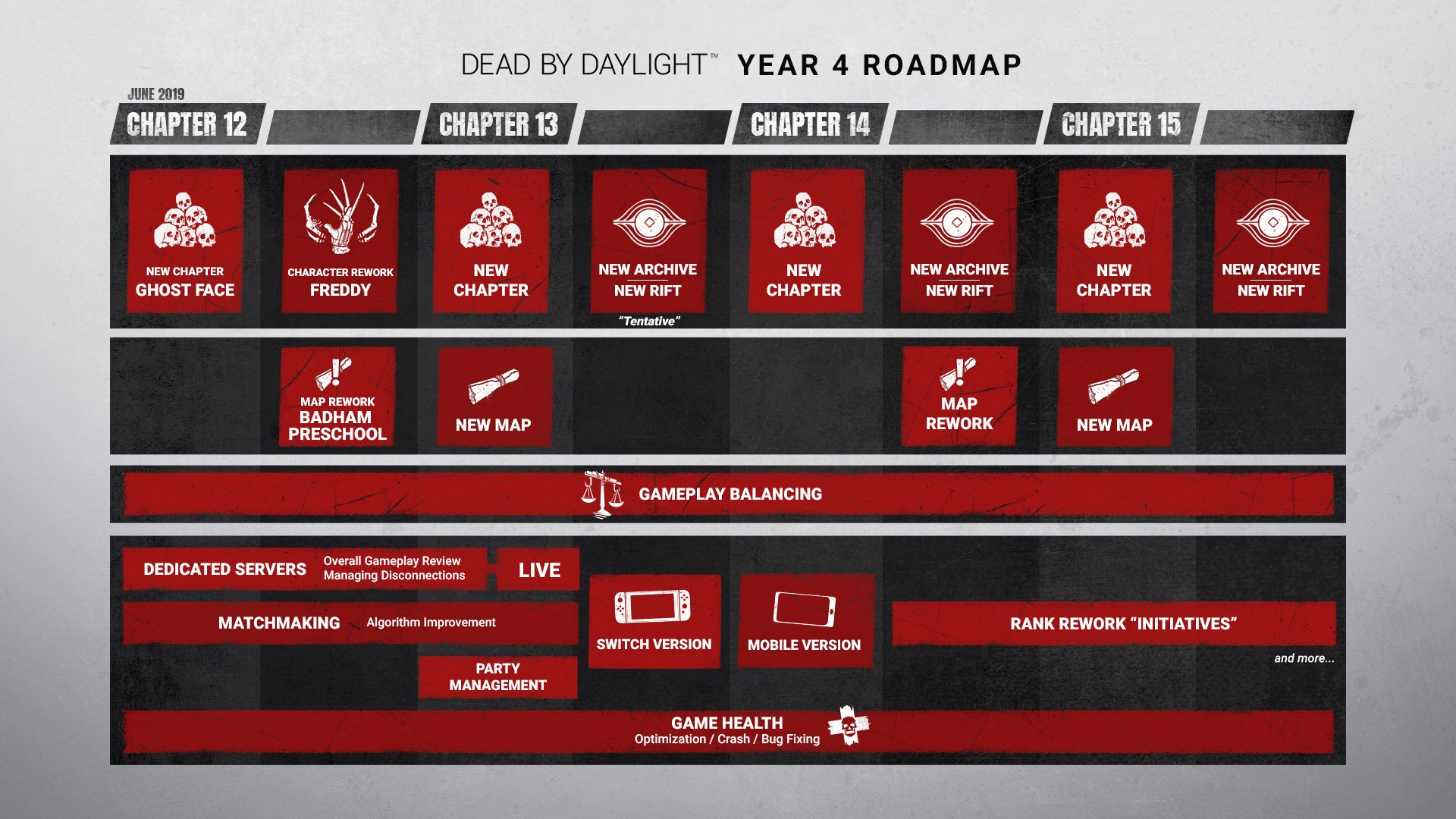 Year four is all about the health of the game, expanding the universe, expanding the game and the stories within it. The roadmap begins with the regular chapter releases that will be available every three months, giving more to the players. Adding to that is the addition of new maps and map reworks. The Badham Preschool is the first rework, going hand in hand with the Freddy character rework. The next step down in the roadmap takes us to improvements to matchmaking, dedicated servers, and party management. This is followed by the Switch and Mobile version releases. Dead by Daylight will be coming to the Nintendo Switch September 24, 2019. Lastly is the rank rework initiatives. Gameplay balancing and game health (optimization/crash/bug fixing) are year long goals/projects.
The Archives are an addition to the game that will expand the universe, add new goals for the players, and open up the ability to earn more rewards. This dives deeper into the stories of the characters and lets players learn how the characters became the characters that we know and love. All items are cosmetic!
Panel 2: Live Design
The Freddy Rework will add mobility and an active power that you can use with chases. The new power could be a new sleep cycle and/or dream abilities. It is still a work in progress and things may or may not change. Microsleep will affect how players interact with Freddy, how quickly he can attack, and how visible he will be. After people fall asleep, Freddy will be completely visible and players will hear a lullaby. The visuals for sleep will be different as there were complaints about the gradient.
Dream abilities give Freddy dream pallets. Players cannot see these pallets when awake, but can when they go to sleep. They will have to remember which pallets were there when they were awake. Dream snares is an ability that you can use actively. It is a trap that will slow survivors. Generator teleports allows Freddy to channel a generator for five seconds and appear at the selected generator.
The map updates will be done to revamp some of the older maps and add a new element. Pallet loops will be changed from all large loops in a map to a variation of large and small loops. This is to promote more skill based game play with mind games.
Panel 3: Community
Cahlaflour and VincentVega were both invited to be a part of the community panel and answer questions about their own streams, how they were introduced to Dead by Daylight, and what they are most excited about in Year Four.
Community activities for the anniversary are occurring throughout June. There are artwork, video, and cosplay contests, a chance for outfit designs to be implemented in the game, raffles, goodies (wallpapers), dev play sessions, and a DBD exam.
A double blood weekend will be held June 14th to 18th and the in-game anniversary will be June 18th to July 2nd.
Panel 4: Ghostface Reveal